American former figure skater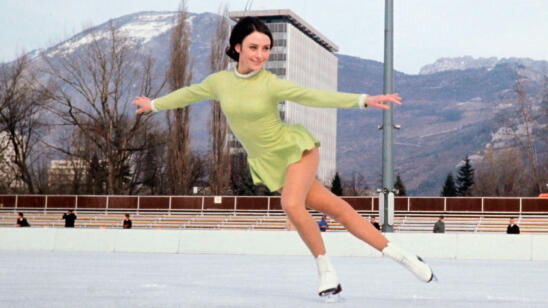 Peggy Gale Fleming is an American former figure skater and the only American in the 1968 Winter Olympics in Grenoble, France to bring home a Gold Medal.
She is the 1968 Olympic Champion in Ladies' singles and a three-time World Champion.
 Stamp › 
Peggy Fleming (*1948), USA
Who Is Peggy Fleming?
Peggy Fleming started figure skating at age 9. Soon the hobby blossomed into an amateur career and Fleming won several accolades for the sport, including U.S. titles and world championships. She then participated in the 1968 Olympics, where she won the only gold medal for the United States. 
Thirty years later, Fleming was diagnosed with breast cancer. After going through surgery and chemotherapy, she successfully conquered her cancer.
Early Life
Peggy Gale Fleming was born on July 27, 1948, in San Jose, California. She began skating at age 9, and her family made several sacrifices to support the young athlete's amateur career. When she was 12, her coach was among those killed when a plane carrying the United States figure skating team crashed in Belgium. 
With her new coach — the lithe, elegant skater Carlo Fassi — Fleming went on to win five U.S. titles and three world championships.
1968 Olympics
In 1968, Fleming won gold at the 1968 Olympics in Grenoble, France. Her gold medal  was the only one achieved by the U.S. that year. The victory was also particularly sweet because it signaled a resurgence in U.S. figure skating following the 1961 airplane tragedy.
After winning her Olympic gold, Fleming starred in several television specials, including Fantasy Island, The Magic of David Copperfield VII: Familares and Nutcracker on Ice, and performed in countless skating shows across the U.S. She was also a popular commentator for ABC Sports, often working… with fellow Olympic champ Dick Button.
***********************************************************************
https://www.youtube.com/watch?v=lYyiTLSDNmA
Dick Button 1948 Olympics Montage   
A compilation of footage attempting to recreate around two and a half minutes of his free skate from the 1948 Winter Olympics in St Moritz.
The music is Rumanian Rhapsody which he did skate to although whether it was this particular part,    I have no idea.
******************************************************************************
Battling Breast Cancer
In 1998, Fleming was diagnosed with breast cancer. She had surgery to remove a malignant tumor on the 30th anniversary of her famous Olympic win. After completing radiation therapy, Fleming was cancer-free. 
She shared her battle with breast cancer with the public, appearing on such television shows such as The Rosie O'Donnell Show. Since her diagnosis, Fleming has been a tireless champion for health-related causes.
Personal Life
Fleming and her husband, Greg Jenkins, have two sons, Andy and Todd, and multiple grandchildren.

Posted in Childhood, Grandma, Today and tagged "Mickey McLaren" -" herself"with no comments yet.