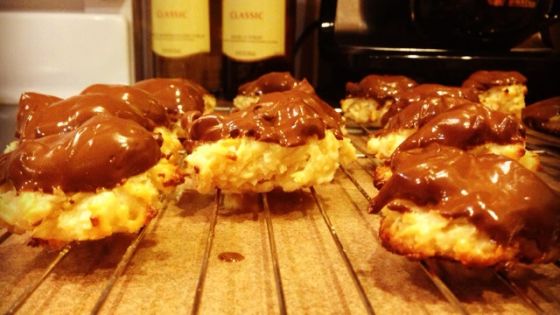 1⁄3 

cup all-purpose flour

2 1⁄2 

cups sweetened flaked coconut

1⁄8 

teaspoon salt

2⁄3 

cup sweetened condensed milk

1 

teaspoon vanilla extract

4 

ounces dark chocolate, melted (white, or milk can be used)
 DIRECTIONS
Preheat oven to 350 degrees. Grease large cookie sheet.
In large bowl, stir together flour, coconut and salt. Add condensed milk and vanilla; stir until well combined.
Drop batter by Tablespoon / scoop (original recipe called for 1/4 cupfuls), 1 inch apart, onto prepared cookie sheet. Bake 15 to 17 minutes or until just golden on bottoms. Transfer to wire racks to cool completely.
When cookies are cool, dip top halves into melted chocolate of your choice; let stand until set.         
Ready in 30 minutes
Serves  18     *****      1 1/2 dozen cookies
************************************************************
*****    Free: New and Sweet Recipe! *****
Do you have the "Good Housekeeping"  issue for May 2013?  If you can get your hands on this issue  –  grab it!  The reason for getting this issue  –  the free recipe  is  from    Julianna Margulies  – who plays  "Alicia Florrick in the  Good Wife!"
"Good Housekeeping"  did an article about  "The Good Wife"  –   and on page 48 , left bottom corner…  it states to  tell all of  the readers to…    "Steal This Sweet!"  This is  "Julianna's  fave  macaroon recipe"     and as I was reading  that it only takes four (4) ingredients  and chocolate chips  if you want chocolate icing on top.  As I was reading how easy  this recipe is to make  –  just  had to try  it out  –  and was  so happy with  the good and sweet results.  So if you to   –  like coconut and easy recipes  –  this is the one for you to try,   now.
Another  way that I use coconut is with  "Jello"   – I add a can of  "Fruit Cocktail"   –   walnuts  and coconut.   This is the best dessert for me in the evening  and with all  of the ingredients  that I  really like   and so good for you!
Since  the "Good Wife's recipe only takes  a portion of a can of the  sweetened condensed milk  –  you need a back up  recipe  – to use the rest of the can.    My suggestion  –  as…  this is what I did.   Another  favorite recipe of mine  and for at least thirty years is  the  "Magic Cookie Bars"   –  so…  this is  a very and sweet use….  If you check this recipe out you will find   –  as I did  –  cut all the items   in half …  since you have almost a half can of condensed milk to use.  Also I used a glass pie plate and you will find  –  this is just the right amount of dessert needed.  And all of this is so easy and a nice sweet treat in the evening!
If you have a "sweet tooth"  and like something quick and easy  –  try my suggestions!    "I'll be right over   –  to enjoy  with  You!"      D.V.

Posted in Childhood, Family, Grand-Children, Grandma, Today and tagged "Mickey McLaren" -" herself"with no comments yet.